Miklós Bergou
Contact info:
Google New York
76 Ninth Avenue
4th Floor
New York, NY 10011
Email: mbergou at mbergou dot com
I am currently a software engineer working for Google on Google Docs in New York. Previously, I was a researcher at Adobe's
Advanced Technology Labs
. From 2005–2010, I was a PhD student in the
Computer Graphics Group
at Columbia University. My PhD advisor was
Prof. Eitan Grinspun
, and my dissertation was on "Discrete Geometric Dynamics and Artistic Control of Curves and Surfaces." Before my PhD, I was an undergrad at
Carnegie Mellon University
, majoring in physics and computer science, with a minor in mathematics.
You can download my CV here.
Research Projects
Click on an image to visit that project's webpage.
Nonlinear Optimization
We present a method for accelerating the convergence of continuous nonlinear shape optimization algorithms. We start with a general method for constructing gradient vector fields on a manifold, and we analyze this method from a signal processing viewpoint. This analysis reveals that we can construct various filters using the Laplace-Beltrami operator of the shape that can effectively separate the components of the gradient at different scales
"Efficient Nonlinear Optimization via Multiscale Gradient Filtering"
Tobias Martin, Pushkar Joshi, Miklós Bergou, Nathan Carr
Computer Graphics Forum 2013

Discrete Viscous Threads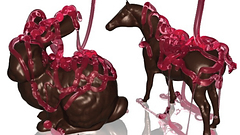 We present a continuum-based discrete model for thin threads of viscous fluid by drawing upon the Rayleigh analogy to elastic rods, demonstrating canonical coiling, folding, and breakup in dynamic simulations. Our derivation emphasizes space-time symmetry, which sheds light on the role of time-parallel transport in eliminating — without approximation — all but an O(n) band of entries of the physical system's energy Hessian. The result is a fast, unified, implicit treatment of viscous threads and elastic rods that closely reproduces a variety of fascinating physical phenomena, including hysteretic transitions between coiling regimes, competition between surface tension and gravity, and the first numerical fluid-mechanical sewing machine. The novel implicit treatment also yields an order of magnitude speedup in our elastic rod dynamics.
"Discrete Viscous Threads"
Miklós Bergou, Basile Audoly, Etienne Vouga, Max Wardetzky, Eitan Grinspun
SIGGRAPH (ACM Transaction on Graphics) 2010
[PDF]
Discrete Elastic Rods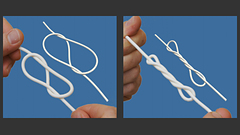 We present a discrete treatment of adapted framed curves, parallel transport, and holonomy, thus establishing the language for a discrete geometric model of thin flexible rods with arbitrary cross section and undeformed configuration. Our approach differs from existing simulation techniques in the graphics and mechanics literature both in the kinematic description — we represent the material frame by its angular deviation from the natural Bishop frame — as well as in the dynamical treatment — we treat the centerline as dynamic and the material frame as quasistatic. Additionally, we describe a manifold projection method for coupling rods to rigid-bodies and simultaneously enforcing rod inextensibility. The use of quasistatics and constraints provides an efficient treatment for stiff twisting and stretching modes; at the same time, we retain the dynamic bending of the centerline and accurately reproduce the coupling between bending and twisting modes. We validate the discrete rod model via quantitative buckling, stability, and coupled-mode experiments, and via qualitative knot-tying comparisons.
"Discrete Elastic Rods"
Miklós Bergou, Max Wardetzky, Stepehen Robinson, Basile Audoly, Eitan Grinspun
SIGGRAPH (ACM Transaction on Graphics) 2008
[PDF]
Tracking and Enriching Thin Shells
We describe a framework that allows an artist to add physically simulated, dynamic detail to an existing animation of a thin shell. We can effectively control the scales at which details such as wrinkles and folds are added by setting up weak-form constraints between the input animation and the output of our system. To maintain these constraints, we use Constrained Lagrangian Dynamics, which chooses the most physical motion possible that satisfies the constraints.
"TRACKS: Toward Directable Thin Shells"
Miklós Bergou, Saurabh Mathur, Max Wardetzky, Eitan Grinspun
SIGGRAPH (ACM Transactions on Graphics) 2007
[PDF]
Quadratic Bending Energies
Relating the intrinsic Laplacian to the mean curvature normal of a surface, we arrive at a model for bending of inextensible surfaces. Due to its constant Hessian, our isometric bending model reduces cloth simulation times up to three-fold.
"Discrete Quadratic Bending Energies"
Max Wardetzky, Miklós Bergou, David Harmon, Denis Zorin, Eitan Grinspun
Computer Aided Geometric Design 2007
[PDF]
"Discrete Quadratic Curvature Energies"
Miklós Bergou, Max Wardetzky, David Harmon, Denis Zorin, Eitan Grinspun, Eitan Grinspun (ed.)
Discrete Differential Geometry: An Applied Introduction, ACM SIGGRAPH 2006, pp. 20–29
[PDF]
"A Quadratic Bending Model for Inextensible Surfaces"
Miklós Bergou, Max Wardetzky, David Harmon, Denis Zorin, Eitan Grinspun
Fourth Eurographics Symposium on Geometry Processing 2006, pp. 227–230
[PDF]